---
"The Animal Medical Hospital at Glenwood would like to take this opportunity to welcome you, your family, and your family's special pets to our website. "

---
As you continue to browse and explore our website, it is our hope that you will learn more about our dedication to animal health. Our practice takes pride in providing the finest quality veterinary medicine and client service possible.
Our goal is to assemble a veterinary health care team committed to providing exceptional client service and veterinary health care.
Dr. Stuart Scheinberg, D.V.M.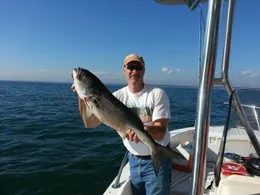 Dr. Stuart Scheinberg grew up on a horse farm in upstate New York. He had dreams of becoming a veterinarian since childhood. Growing up on a family farm was a great experience in which his love of animals was cultivated through raising and breeding horses, cattle, rabbits, and even chickens.
Dr. Scheinberg pursued his dream of becoming a veterinarian by attending Cornell University College of Agriculture and obtaining a Bachelor of Science in Animal Science in 1988. He went on to the University of Tennessee College of Veterinary Medicine where he obtained his D.V.M. in 1994.
In 1994,Dr. Scheinberg started his career in a mixed animal practice in Frederick, Maryland. In 1996 he and his wife, Dr. Cheryl Holmes, followed their dream and opened their own practice in Glenwood, Maryland.
---
Dr. Cheryl A. Holmes, D.V.M.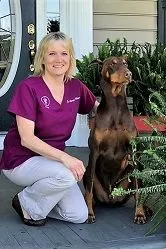 Dr. Cheryl Holmes grew up in a small town on the coast of southern Maine. She received her B.S. in Animal Science from Cornell University in 1988, and her Doctor of Veterinary Medicine degree from the University of Tennessee in 1994. She has a special interest in internal medicine and animal behavior.
Dr. Holmes practices small animal medicine and surgery at the Animal Medical Hospital At Glenwood, which she and her husband, Dr. Stuart Scheinberg, opened in 1996.
She and Dr. Scheinberg also keep busy with their three children, Jacob, Rachel, and Alana. As a family, they enjoy outdoor activities including hiking, camping and boating.
---
Dr. Amy Wysocki, D.V.M.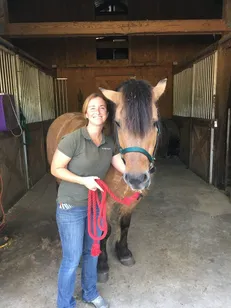 Dr. Amy grew up in the sunny state of Florida where she completed her studies. She earned her Bachelor of Science Degree in Biology from Florida State University, and Doctorate of Veterinary Medicine at University of Florida in 2012.

After veterinary school, Dr. Amy worked as a large animal veterinarian at a clinic in Central Florida which also included treating small animals through a local humane society.
She enjoys all aspects of companion animal veterinary medicine and enjoys working with people almost as much as she loves working with animals. When Dr. Amy is not working, she enjoys swimming, weight lifting and spending time outdoors with her husband Thomas and their dog Fergie.


---
Dr. Erika Watkins, D.V.M.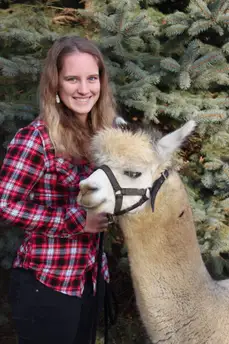 Dr. Erika Watkins grew up and has lived in Sykesville her whole life. She received her B.S. in Pre-Veterinary Science from the University of Massachusetts Amherst in 2014, and her Doctor of Veterinary Medicine degree from Ross University School of Veterinary Medicine in 2018. She did her clinical year at the University of Tennessee. She has a special interest in equine and camelids.
After graduation from vet school Dr Watkins practiced as an equine vet for a year before joining our practice. She looks forward to continuing seeing large animals as well as small animals now!
In her spare time Dr Watkins owns an alpaca farm where she breeds and trains award winning alpacas. In addition to her alpacas she has 2 dogs (a doberman and an island dog who is a lab/ridgeback mix) and 2 guinea pigs. Dr Watkins also loves doing stuff outdoors such as horseback riding, fishing, 4 wheeling and spending time with her family and friends.
---


Teamwork
The Animal Medical Hospital at Glenwood believes that providing top quality pet care and customer service is a team effort.
The staff at AMH Glenwood is provided with continuing education on the growing technical advances in veterinary medicine and customer service.
Our veterinary team is a dynamic mix of individuals who come together every day to provide compassionate animal healthcare and client customer service.
Please take a few minutes to meet our staff and review their roles here at the Animal Medical Hospital at Glenwood.
---
Practice Manager

The Practice Manager works to ensure the standard of quality veterinary care and customer service is maintained throughout the practice. She directs and plans marketing, social media, financial compliance, hospital policy, and procedure. Veterinary practice managers are responsible for providing business management services and overseeing operations in the veterinary setting. They ensure that daily operations run smoothly in the clinic, allowing veterinarians to focus solely on practicing medicine rather than the many details of running a business.
---
Jenny
Jenny came to AMH as the practice manager in May 2022. She is passionate about pets and the people who love them. Her dedication to the field began at age 14 with her first job. From kennel attendant to receptionist, to competent veterinary technician, she was eager for new knowledge and skills. In college her passion for helping and understanding people grew, as did her knowledge of behavior, motivation, and industrial psychology. Jenny graduated from Towson University with degrees in psychology and animal behavior. She has been a practice manager since 2015.
---

Client Service Representatives
The Client Service Representative is your first point of contact when calling or coming into our hospital.
They cordially greet all our clients and their pets, schedule patient appointments, educate our clients on wellness care and parasite prevention, place appointment confirmation calls, help clients locate pet food diets, process client payments, and more.
---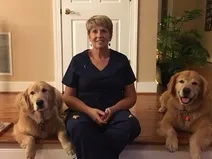 Debbie
Debbie joined the practice in 2018 after retiring from NASA as a financial manager. She has been a client of the animal hospital since 1996. Since Debbie was a kid, she has always brought home stray animals and tried to nurse injured wild animals back to health. Working in the vets office is a dream come true. Debbie and Ken have been married for 37 years and have two grown children. When she isn't working, she enjoys playing with her two golden retrievers, gardening and hanging by the pool.
---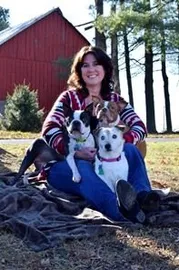 Jackie
Jackie has been working at AMH since August 2017. She previously was a Teacher's Aide for 14 yrs. Her love of animals brought her to a new career at AMH. Jackie has been married for 32 yrs and has 4 grown children. She currently has 5 dogs that bring her lots of joy. She has always had pets in her home and feels blessed to have them. In her leisure time Jackie enjoys camping, going to the beach and being with her family. Jackie is thrilled to be a CSR. She enjoys meeting and greeting all of our clients along with their pets.
---
Heather

*
Bio Coming Soon*
---
Emily W
Emily became a part of the AMH team in September of 2021. She has worked at pet kennels and daycares for many years and enjoyed playing and interacting with animals of all shapes and sizes. She has always had a love of biology that inspired her to persue a career where she could continue to help animals and the people that love them. She currently has a border collie mix named Brooks and a leopard gecko named Rafiki to keep her company while she crochets, draws, sings, and sculpts at home.
---
Emmett
*Bio Coming Soon*
---
Veterinary Technicians

Our Veterinary Technicians assist our veterinarians during appointments, procedures, and surgery. They are the extra eyes and ears of our doctors during all aspects of treating and caring for our patients.
Our Veterinary Technicians pride themselves on the care they give every case. They make sure that each client and their pets are comfortable during their visit to our hospital. In addition to the care and quality attention they provide each visitor to our exam rooms, they are continuously expanding their education on a medical and surgical level to bring you and your pets cutting edge knowledge in the ever-expanding field of medicine.
---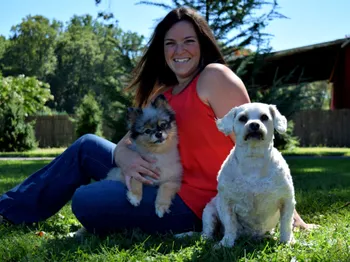 Emily
Emily was born and raised in Howard County Maryland, where she lives on her grandparents' 88 acre farm. Her passion and love for animals led her to begin working at AMH in high school; a career choice that suited her so well that she has been with this practice for 18 years and counting! Emily feels very blessed to be part of such a caring team of doctors, staff and clients at AMH.

When Emily is not working at AMH, she enjoys spending time with her family. She deeply loves her pets, which includes two dogs ("Rusty" and "Whitey"), one cat (Micey) two horses ("Scarlett" and "Blaze"), two donkeys ("Ears" and "Lady"), and 20 goats, her favorite of which is "Fidey". When Emily is not occupied with her family and pets, she loves to shop and watch her favorite football team, the Baltimore Ravens.
---