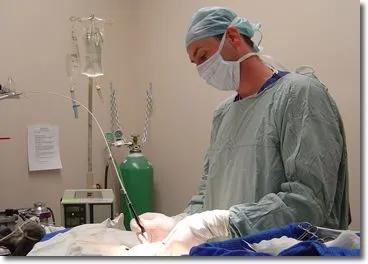 Surgery
The Animal Medical Hospital at Glenwood, is fully equipped to handle your pet's surgical needs. Our veterinarians are skilled and experienced in performing a broad range of surgical procedures.
Our top priority is always the comfort and safety of each patient. We have a large surgical suite with the latest surgical equipment and anesthesia monitors. Our staff of fully trained and experienced veterinary technicians assist each doctor.
When surgery is complete, your pet will be carefully monitored and made comfortable in our recovery ward. A member of your pet's surgical team will contact you following the surgery with a full update to reassure you that your loved one is doing great.
When you arrive to pick up your pet, a veterinary technician will carefully go over written instructions customized for your pet's home care. Your follow up visit can be scheduled by a client service representative at this time as well. In the days following the surgery, we will contact you to ensure your pet is making a full recovery.
Our doctors and staff want you to feel comfortable in knowing our surgery teams are skilled, caring, and compassionate. Your pet is in the best possible hands when they are in our hospital.